Darby McCarthy, considered the greatest native jockey in the country, is about to be immortalized in cinema.
A feature-length documentary on McCarthy's inspirational life story titled "In A Life Time" is in production and is slated for release next year.
McCarthy became a champion jockey in the 1950s and 1960s and did much to advance the Aboriginal cause.
Cathy Freeman, a 400m gold medalist at the Sydney Olympics in 2000, was 15 when she met McCarthy and often stayed with the jockey's family on weekends when she attended a boarding school in Toowoomba.
"Darby influenced me and encouraged me to strive for excellence in all that I do and to persevere against all odds and for that I will always be grateful," Freeman said.
Richard Laurence "Darby" McCarthy was born in Cunnamulla in Outback Western Queensland, one of Albert and Kate's 12 children.
"We lived between the cemetery and the sewer outlet, mate," McCarthy once said.
"Black people weren't allowed in the city. More importantly, I couldn't even vote in my own country, bro."
Darby McCarthy after receiving a gold mounted whip following his winning double in the 1969 AJC Derby on Divide And Rule and the Epsom on Broker's Tip. Photo: News Corp. Turf History
McCarthy fell in love with horses at an early age and competed in his first dirt race at the Thargomindah Races.
From those humble beginnings, McCarthy rose to fame in the saddle, riding great race winners from Eagle Farm to Royal Randwick and Chantilly to Royal Ascot, and was eventually inducted into the Australian Racing Hall of Fame.
McCarthy rode the winners of three Stradbroke Handicaps, plus the Doomben 10,000, Brisbane Cup, Tancred Stakes and the Epsom Handicap-AJC Australian Derby double in 1969.
His riding talent was recognized around the world and he had lucrative riding contracts in Europe for some of the sport's wealthiest owners, including the Rothschilds, Daniel Wildenstein and the Aga Khan.
When he rode to France for the Aga Khan, he lived in a two-storey mansion with servants – far from Cunnamulla.
But McCarthy was always proud of his Indigenous heritage and was ready to stand up for the rights of his people.
"I'm black," McCarthy once told a reporter who called him colored. "You are colored. I was born black, I will stay black, and I will die black. You were born pink, turn white, turn brown in the sun, and eventually turn gray."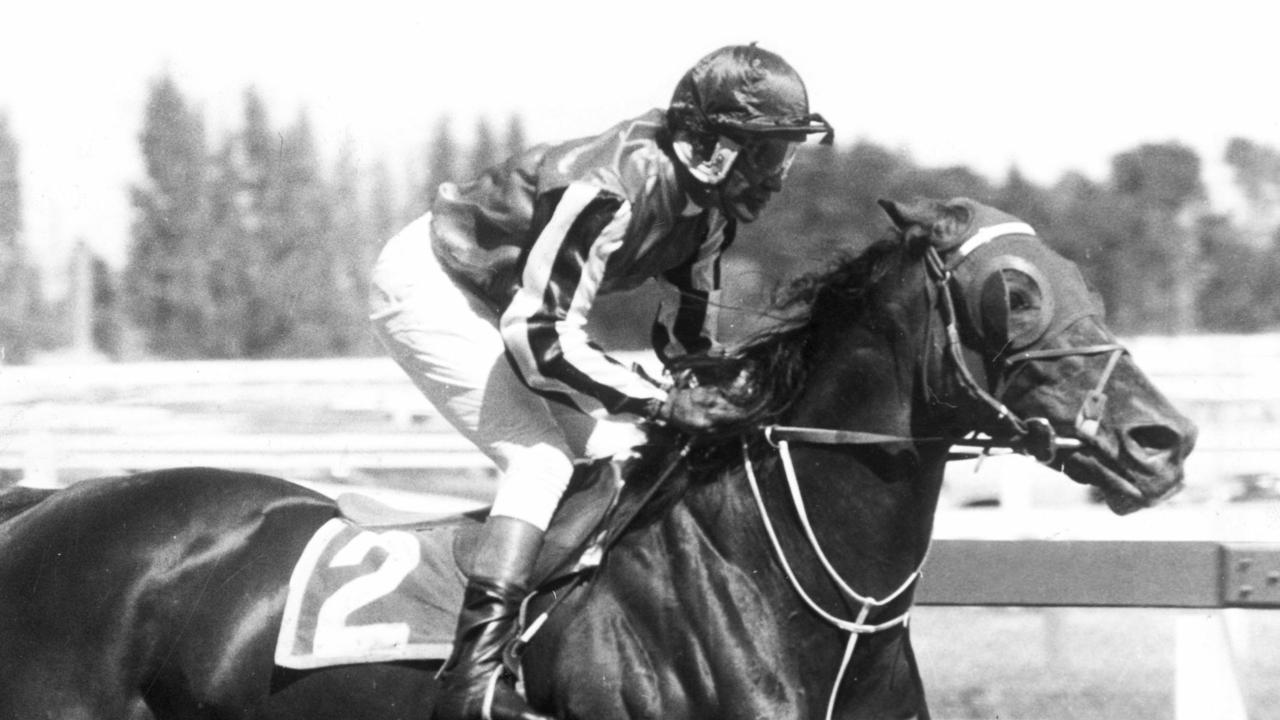 Darby McCarthy on Hyperno in the Carlyon Cup at Caulfield. Photo: News Corp.
On another occasion, McCarthy urged reporters to always refer to his Aboriginal.
"If a journalist wants to do me a favor, he can call me an Aborigine as often as he says my name," said the jockey. "Because that's who I am and if I'm going to be successful, it's important that I be recognized as an Indigenous success."
Prior to his passing in May 2020, McCarthy had wanted his story told on film, prompting acclaimed producers David Waddington and Chris O'Reilly to take over the project, which they called "In A Life Time."
READ: Pioneering Aboriginal jockey Darby McCarthy dies.
Ronald Simpson, 22, an emerging Aboriginal apprentice jockey based in Randwick with master trainer Les Bridge, has been cast as McCarthy in the documentary.
"I knew about Darby McCarthy because few native jockeys have been as successful as him, but when I got an out of the blue call and was asked to play the role, I did some research. and I was mesmerized by her story," Simpson said. .
"I didn't realize what kind of impact Darby had on Australian society. I feel very lucky to be part of this film to be honest."
Simpson, whose riding style is said to be eerily similar to McCarthy's, has only been back on the helm for nine months after suffering a serious leg injury in a crash over two years ago.
"The saddle slipped under the belly of the horse I was riding so I jumped off but my foot caught on an iron and I was dragged," Simpson said. '
Simpson's riding career is starting to pick up steam again, he won on Careering Away in Dubbo last Sunday, but the young apprentice couldn't pass up the opportunity to play such an iconic role as McCarthy.
"Riding racehorses is easier than talking to a camera," Simpson said. "But I'm honored to be a part of this movie and the producers are trying to accommodate my (riding) schedule."
Darby McCarthy at Rosehill in 1990. Photo: News Corp.
Lyall Appo, himself a former top Queensland jockey, would play McCarthy later in life.
Waddington and O'Reilly taped numerous on-camera interviews with McCarthy before his passing, as well as the jockey's family, friends and those who knew and admired him in the racing industry, including prominent journalists from Sydney racing Ken Callander and Max Presnell.
"The project has been delayed a bit with Covid but filming has started and we are looking at releasing the documentary next year," Waddington said.
"Darby's story is truly remarkable. He was an incredible character and a magnificent man.
"He decided to become a jockey when he was 10 and with the traditional Australian attitude of having a few years ago he showed what you can do for a living.
"It's a very positive and upbeat film – it's a just dinkum Aussie story."
#The Darby McCarthy "In a Life Time" project has been endorsed by the non-profit philanthropic organization Documentary Australia Foundation. This approval allows interested parties to make financial contributions to the film through DAF.